Whether you're side hustler, a leader in entrepreneurship, an award winning C-Suite professional, or an aspiring community leader, 40 Cups is here to help you navigate and plan your growth so that you are sure to meet your goals.
The 40 Cups movement serves as a networking opportunity for local business owners and professionals looking to have those 40 cups (and then some), connect with peers, and find opportunities for growth, both personally and professionally.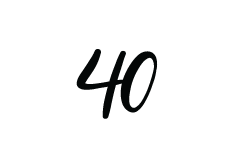 What started as a coffee chat, has now grown to include over 600+ coffee community members all who are making a difference, leveling up, achieving their goals, and sharing inspiration through their own coffee journey.
"40 Cups of Coffee elevated our campaign prestige considerably with their facilitation of our Town Hall and I cannot wait to join in future projects together."
– Cathy Deagle Gammon, Halifax Councilor for District 1
The space you have created for members to find peace and presence is beautiful and definitely needed. Thank you for that!
– Martina Kelades, Life Out Loud